God is so clear about how we are acceptable to Him. The Bible says, "For God so loved the world that He gave His only Son, that whoever believes in Him will not perish, but have eternal life" (John 3:16). And many times Jesus talked about coming to give us eternal life. He stated this quite directly: "…it is my Father's will that all who see his Son and believe in him should have eternal life" (John 6:40).
If we could come to God through any religious figure (ie. Buddha, Allah, Mohammad, Hindu gods, etc.), or through any religious effort…then Jesus did not need to come to earth and die on a cross for our sins. But this was God's plan–God Himself paying for our sin, so that full forgiveness could be given to us. "For the wages of sin is death, but the free gift of God is eternal life in Christ Jesus our Lord" (Romans 6:23).
To believe in Jesus means life; to not believe in Him means remaining guilty from personal sin and under God's judgment. God offers forgiveness to any who will come to Him.
If you would like more information on how Christianity compares with other major religions, such as Islam, Buddhism, Hinduism, please see the article:
Connecting with the Divine
.
The major world religions and their beliefs about God. Hinduism, Buddhism, Islam, Christianity, and New Age...
By Marilyn Adamson
We all want to make it through life with some degree of success, some sense that we did it right. And if others think they know how life can be satisfying, even meaningful, it's at least worth checking out. What about the major world religions? Is there anything in them that would give our lives greater stability and value?
The following is an opportunity to look into the major world religions... Hinduism, New Age, Buddhism, Islam, and Christianity.* Included is a brief description of each, its distinguishing characteristics, and what a person can gain from each. The author then presents for your consideration the ways in which Jesus' teaching differs from the major religions.
*Each of these systems has sects with differing beliefs. The description given here focuses on the heart of that system. Other major religions, such as Judaism, could be discussed, but for brevity, we have chosen these.
Hinduism and its beliefs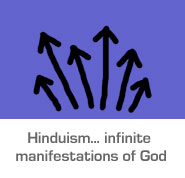 Most Hindus worship one Being of ultimate oneness (Brahman) through infinite representations of gods and goddesses. These various manifestations of gods and goddesses become incarnate within idols, temples, gurus, rivers, animals, etc.
Hindus see their position in this present life as based on their actions in a previous life. If their behavior before was evil, they might experience tremendous hardships in this life. A Hindu's goal is to become free from the law of karma...to be free from continuous reincarnations.
There are three possible ways to end this cycle of karma: 1. Be lovingly devoted to any of the Hindu gods or goddesses; 2. Grow in knowledge through meditation of Brahman (oneness)...to realize that circumstances in life are not real, that selfhood is an illusion and only Brahman is real; 3. Be dedicated to various religious ceremonies and rites.
In Hinduism, a person has the freedom to choose how to work toward spiritual perfection. Hinduism also has a possible explanation for the suffering and evil in the world. According to Hinduism, the suffering anyone experiences, whether it is sickness or starvation or a disaster, is due that person because of their own evil actions, usually from a previous lifetime. Only the soul matters which will one day be free of the cycle of rebirths and be at rest.
New Age and its beliefs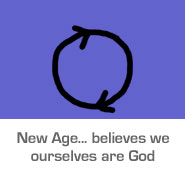 New Age promotes the development of the person's own power or divinity. When referring to God, a follower of New Age is not talking about a transcendent, personal God who created the universe, but is referring to a higher consciousness within themselves. A person in New Age would see themselves as God, the cosmos, the universe. In fact, everything that the person sees, hears, feels or imagines is to be considered divine.
Highly eclectic, New Age presents itself as a collection of ancient spiritual traditions. It acknowledges many gods and goddesses, as in Hinduism. The Earth is viewed as the source of all spirituality, and has its own intelligence, emotions and deity. But superseding all is self. Self is the originator, controller and God of all. There is no reality outside of what the person determines.
New Age teaches a wide array of eastern mysticism and spiritual, metaphysical and psychic techniques, such as breathing exercises, chanting, drumming, meditating...to develop an altered consciousness and one's own divinity.
Anything negative a person experiences (failures, sadness, anger, selfishness, hurt) is considered an illusion. Believing themselves to be completely sovereign over their life, nothing about their life is wrong, negative or painful. Eventually a person develops spiritually to the degree that there is no objective, external reality. A person, becoming a god, creates their own reality.
Buddhism and its beliefs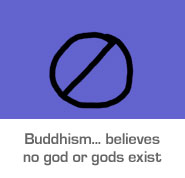 Buddhists do not worship any gods or God. People outside of Buddhism often think that Buddhists worship the Buddha. However, the Buddha (Siddhartha Gautama) never claimed to be divine, but rather he is viewed by Buddhists as having attained what they are also striving to attain, which is spiritual enlightenment and, with it, freedom from the continuous cycle of life and death. Most Buddhists believe a person has countless rebirths, which inevitably include suffering. A Buddhist seeks to end these rebirths. Buddhists believe it is a person's cravings, aversion and delusion that cause these rebirths. Therefore, the goal of a Buddhist is to purify one's heart and to let go of all yearnings toward sensual desires and the attachment to oneself.
Buddhists follow a list of religious principles and very dedicated meditation. When a Buddhist meditates it is not the same as praying or focusing on a god, it is more of a self-discipline. Through practiced meditation a person may reach Nirvana -- "the blowing out" of the flame of desire.
Buddhism provides something that is true of most major religions: disciplines, values and directives that a person may want to live by.
Islam and its beliefs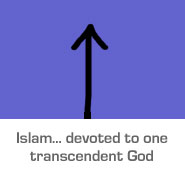 Muslims believe there is the one almighty God, named Allah, who is infinitely superior to and transcendent from humankind. Allah is viewed as the creator of the universe and the source of all good and all evil. Everything that happens is Allah's will. He is a powerful and strict judge, who will be merciful toward followers depending on the sufficiency of their life's good works and religious devotion. A follower's relationship with Allah is as a servant to Allah.
Though a Muslim honors several prophets, Muhammad is considered the last prophet and his words and lifestyle are that person's authority. To be a Muslim, one has to follow five religious duties: 1. Repeat a creed about Allah and Muhammad; 2. Recite certain prayers in Arabic five times a day; 3. Give to the needy; 4. One month each year, fast from food, drink, sex and smoking from sunrise to sunset; 5. Pilgrimage once in one's lifetime to worship at a shrine in Mecca. At death -- based on one's faithfulness to these duties -- a Muslim hopes to enter Paradise. If not, they will be eternally punished in hell.
For many people, Islam matches their expectations about religion and deity. Islam teaches that there is one supreme God, who is worshiped through good deeds and disciplined religious rituals. After death a person is rewarded or punished according to their religious devotion.
Christianity and its beliefs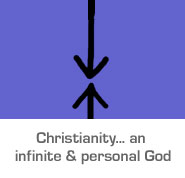 Christians believe in a loving God who has revealed himself and can be personally known in this life. With Jesus Christ, the person's focus is not on religious rituals or performing good works, but on enjoying a relationship with God and growing to know him better.
Faith in Jesus Christ himself, not just in his teachings, is how the Christian experiences joy and a meaningful life. In his life on Earth, Jesus did not identify himself as a prophet pointing to God or as a teacher of enlightenment. Rather, Jesus claimed to be God in human form. He performed miracles, forgave people of their sin and said that anyone who believed in him would have eternal life. He made statements like, "I am the light of the world; he who follows me will not walk in darkness, but will have the light of life."1
Christians regard the Bible as God's written message to humankind. In addition to its being an historical record of Jesus' life and miracles, the Bible reveals God's personality, his love and truth, and how one can have a relationship with him.
Whatever circumstances a Christian is dealing with in their life, they can confidently turn to a wise and powerful God who genuinely loves them. They believe that God answers prayer and that life takes on meaning as they live to honor him.
How distinct are these major religions?
In looking at these major belief systems and their views of God, we find tremendous diversity:
Hindus acknowledge multitudes of gods and goddesses.
Buddhists say there is no deity.
New Age followers believe they are God.
Muslims believe in a powerful but unknowable God.
Christians believe in a God who is loving and approachable.
Are all religions worshiping the same God? Let's consider that. New Age teaches that everyone should come to center on a cosmic consciousness, but it would require Islam to give up their one God, Hinduism to give up their numerous gods, and Buddhism to establish that there is a God.
The world's major religions (Hinduism, New Age, Buddhism, Islam, following Jesus Christ) are each quite unique. And of these one affirms that there is a personal, loving God who can be known, now in this life. Jesus Christ spoke of a God who welcomes us into a relationship with him and comes along side us as a comforter, counselor and powerful God who loves us.
In Hinduism a person is on their own trying to gain release from karma. In New Age a person is working at their own divinity. In Buddhism it is an individual quest at being free from desire. And in Islam, the individual follows religious laws for the sake of paradise after death. In Jesus' teaching, you see a personal relationship with a personal God -- a relationship that carries over into the next life.
Can a person connect with God in this life?
The answer is yes. Not only can you connect with God, you also can know that you are fully accepted and loved by God.
Many world religions place an individual on their own, striving for spiritual perfection. Buddha, for example, never claimed sinlessness. Muhammad also admitted that he was in need of forgiveness. "No matter how wise, no matter how gifted, no matter how influential other prophets, gurus, and teachers might be, they had the presence of mind to know that they were imperfect just like the rest of us."2
Jesus Christ, however, never alluded to any personal sin. Instead, Jesus forgave people of their sin and he wants to forgive us of our sin also. We all are aware of our faults, the areas of our lives that may cause others to think less of us, areas that we ourselves wish were not there...maybe it's an addiction, a bad temper, impurity, hateful remarks. God loves us but hates sin, and he has said that the consequence for sin is separation from knowing him. But God provided a way for us to be forgiven and know him. Jesus, the Son of God, God in human form, took all of our sin on himself, suffered on a cross, and willingly died in our place. The Bible says, "By this we know love, that he laid down his life for us."3
God is offering us complete forgiveness because of Jesus' death for us. This means forgiveness for all our sins...past, present and future. Jesus paid for them all. God, who created the universe, loves us and wants to be in a relationship with us. "This is how God showed his love among us: he sent his one and only Son into the world that we might live through him."4
Through Christ, God offers us real freedom from our sin and guilt. He does not leave a person's failures on their shoulders, with a dim hope of becoming a better person tomorrow. In Jesus Christ, God reached toward humanity, providing a way for us to know him. "For God so loved the world that he sent his one and only Son, that whoever believes in him should not perish, but have eternal life."5
God wants us to know him.
We were created by God to live in relationship with him. Jesus said, "He who comes to me will never go hungry, and he who believes in me will never be thirsty...and whoever comes to me I will never drive away."6 Jesus called people not only to follow his teachings, but to follow him. He said, "I am the way, and the truth and the life."7 In claiming to be the truth, Christ goes beyond mere prophets and teachers who simply said they were speaking the truth.8
Jesus identified himself as equal to God, and even gave proof. Jesus said that he would be crucified on a cross and that three days after his death, he would come back to life. He didn't say he would reincarnate someday into a future life. (Who would know if he actually did it?) He said three days after being buried he would show himself alive to those who saw his crucifixion. On that third day, Jesus' tomb was found empty and many people testified that they saw him alive again. He now offers eternal life to us.
Unlike many world religions...
Many religions focus on a person's spiritual efforts. With Jesus Christ it's a two-way interaction between you and God. He welcomes us to go to him. "The Lord is near to all who call upon him, to all who call upon him in truth."9 You can communicate with God, who will answer your prayer, give you greater peace and joy, provide direction, show you his love, and transform your life. Jesus said, "I came that they might have life, and have it more abundantly."10 It will not mean that life will become perfect and free of problems. But it means that in the midst of life, you can relate to God who is willing to be involved in your life and faithful in his love.
This is not a commitment to a method of self-improvement like the Eight Fold Path or the Five Pillars, or meditation, or good works or even the Ten Commandments. These seem clear, well-defined, easy-to-follow paths for spirituality. But they become a burdensome striving for perfection, and connection with God is still distant. Our hope is not in following laws or standards, but in knowing a Savior who fully accepts us because of our faith in him and his sacrifice for us. We don't earn our place in heaven by religious efforts or good deeds. Heaven is a free gift to us, when we begin a relationship with Jesus Christ.
Would you like to be totally forgiven and personally come to know God's love for you?
Beginning a relationship with God.
You can begin a relationship with God right now. It is as simple as sincerely asking God for his forgiveness of your sin and inviting him to enter your life. Jesus said, "Behold, I stand at the door [of your heart] and knock. If anyone hears my voice and opens the door, I will come into him."11 Would like to begin a relationship with the God who created you, who deeply loves you? You can do so right now, if it is your heart's desire: "God, I ask you to forgive me and invite you to enter my heart right now. Thank you Jesus for dying for my sins. Thank you for coming into my life as you said you would."
The Bible tells us that "as many as received him, to them he gave the right to become children of God."12 If you sincerely asked God to come into your life, you have begun a personal relationship with him. It is like you have just met God and he wants to help you grow to know him better, to know his love for you, to guide you with wisdom in whatever decisions confront you. The book called "John" in the Bible is a good place to learn more about a relationship with God. Perhaps you might want to tell someone else about the decision you have made to ask Jesus into your life.
In the world's religions a person has a relationship with teachings, ideas, paths, rituals. Through Jesus, a person can have a relationship with the loving and powerful God. You can talk with him and he will guide you in this life now. He doesn't just point you to a path, a philosophy, or a religion. He welcomes you to know him, to experience joy, and to have confidence in his love in the midst of life's challenges. "See what love the Father has given us, that we should be called children of God."13
And if you would like to see a very helpful article that explains how we know that Jesus is God, please see:
Beyond Blind Faith
.
is Jesus God? Did Jesus ever claim to be God? See proof from the life of Jesus Christ and why it's not blind faith to believe in him.
By Paul E. Little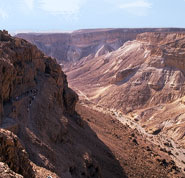 It is impossible for us to know conclusively whether God exists and what he is like unless he takes the initiative and reveals himself.
We must scan the horizon of history to see if there is any clue to God's revelation. There is one clear clue. In an obscure village in Palestine, 2,000 years ago, a Child was born in a stable. Today the entire world is still celebrating the birth of Jesus, and for good reason.
Is Jesus God? Did Jesus ever claim to be God?
We're told that "the common people heard him gladly." And, "He taught as One who had authority, and not as their teachers of the Law."1
It soon became apparent, however, that he was making shocking and startling statements about himself. He began to identify himself as far more than a remarkable teacher or prophet. He began to say clearly that he was God. He made his identity the focal point of his teaching. The all-important question he put to those who followed him was, "Who do you say I am?" When Peter answered and said, "You are the Christ, the Son of the living God,"2 Jesus was not shocked, nor did he rebuke Peter. On the contrary, he commended him!
Jesus frequently referred to "My Father," and his hearers got the full impact of his words. We are told, "The Jews tried all the harder to kill him; not only was he breaking the Sabbath, but he was even calling God his own Father, making himself equal with God."3
On another occasion he said, "I and My Father are One." Immediately the Jews wanted to stone him. He asked them which of his good works caused them to want to kill him. They replied, "We are not stoning you for any of these but for blasphemy, because you, a mere man, claim to be God."4
Is Jesus God? Look at His life.
When a paralyzed man was let down through the roof wanting to be healed by him, Jesus said, "Son, your sins are forgiven you." The religious leaders immediately reacted. "Why does this fellow talk like that? He's blaspheming! Who can forgive sins but God alone?"
When Jesus was on trial for his life, the high priest put the question to him directly: "Are you the Christ, the Son of the Blessed One?"
"I am," said Jesus. "And you will see the Son of Man sitting at the right hand of the Mighty One and coming on the clouds of heaven."
The high priest tore his clothes. "Why do we need any more witnesses?" he asked. "You have heard the blasphemy."5
So close was Jesus' connection with God that he equated a person's attitude to himself with the person's attitude toward God. Thus, to know him was to know God.6 To see him was to see God.7 To believe in him was to believe in God.8 To receive him was to receive God.9 To hate him was to hate God.10 And to honor him was to honor God.11
Is Jesus God? - possible explanations
"
As we face the claims of Christ, there are only four possibilities. He was either a liar, mentally ill, a legend, or the Truth.
"
The question is, was he telling the truth?
Maybe Jesus lied when he said he was God. Perhaps he knew he was not God, but deliberately deceived his hearers to lend authority to his teaching. Few, if any, hold this position. Even those who deny his deity affirm that he was a great moral teacher. However they fail to realize those two statements are a contradiction. Jesus could hardly be a great moral teacher if, on the most crucial point of his teaching -- his identity -- he was a deliberate liar.
Another possibility is that Jesus was sincere but self-deceived. We have a name for a person today who thinks he is God. Mentally disabled. But as we look at the life of Christ, we see no evidence of the abnormality and imbalance we find in a mentally ill person. Rather, we find the greatest composure under pressure.
A third alternative is that his enthusiastic followers put words into his mouth he would have been shocked to hear. Were he to return, he would immediately repudiate them. This theory has been significantly refuted by modern archeology. The four biographies of Christ were written within the lifetime of people who saw, heard and followed Jesus. These gospel accounts contained specific facts and descriptions confirmed by those who were eyewitnesses of Jesus. The early dating of the Gospels by Matthew, Mark, Luke and John, is why they gained such circulation and impact, unlike the fictional Gnostic gospels which appeared centuries later.
Jesus was not a liar, or mentally disabled, or manufactured apart from historical reality. The only other alternative is that Jesus was consciously being truthful when he said he was God.
Is Jesus God? What is the proof?
From one point of view, however, claims don't mean much. Talk is cheap. Anyone can make claims. There have been others who have claimed to be God. I could claim to be God, and you could claim to be God, but the question all of us must answer is, "What credentials do we bring to substantiate our claim?" In my case it wouldn't take you five minutes to disprove my claim. It probably wouldn't take too much more to dispose of yours.
But when it comes to Jesus of Nazareth, it's not so simple. He had the credentials to back up his claim. He said, "Even though you do not believe me, believe the evidence of the miracles, that you may learn and understand that the Father is in Me, and I am in the Father."12
The life of Jesus - His unique moral character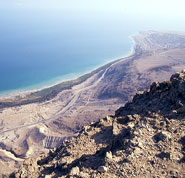 His moral character coincided with his claims. The quality of his life was such that he was able to challenge his enemies with the question, "Can any of you prove me guilty of sin?"
13
He was met by silence, even though he addressed those who would have liked to point out a flaw in his character.
We read of Jesus being tempted by Satan, but we never hear of a confession of sin on his part. He never asked for forgiveness, though he told his followers to do so.
This lack of any sense of moral failure on Jesus' part is astonishing in view of the fact that it is completely contrary to the experience of the saints and mystics throughout the ages. The closer men and women draw to God, the more overwhelmed they are with their own failure, corruption, and shortcomings. The closer one is to a shining light, the more he realizes his need of a bath. This is true also, in the moral realm, for ordinary mortals.
It is also striking that John, Paul, and Peter, all of whom were trained from earliest childhood to believe in the universality of sin, all spoke of the sinlessness of Christ: "He committed no sin, and no deceit was found in his mouth."14
Even Pilate, who sentenced Jesus to death, asked, "What evil has he done?" After listening to the crowd, Pilate concluded, "I am innocent of this man's blood; see to it yourselves." The crowd relentlessly demanded Jesus be crucified (for blasphemy, claiming to be God). The Roman centurion who assisted in the crucifixion of Christ said, "Surely he was the Son of God."15
The life of Jesus - He cured the sick
Jesus constantly demonstrated power over sickness and disease. He made the lame to walk, the dumb to speak, and the blind to see. Some of his healings were of congenital problems not susceptible to psychosomatic cure.
For example, the man who had been blind from birth. Everyone knew him as the familiar beggar outside the temple. Yet Jesus healed him. As the authorities questioned the beggar about what happened, he said, "One thing I do know. I was blind but now I see!" he declared. He was astounded that these religious authorities didn't recognize this Healer as the Son of God. "Nobody has ever heard of opening the eyes of a man born blind," he said.16 To him the evidence was obvious.
The life of Jesus - His ability to control nature
Jesus also demonstrated a supernatural power over nature itself. With just words, he stilled a raging storm of high wind and waves on the Sea of Galilee. Those in the boat were awestruck, asking, "Who is this? Even the wind and waves obey him!"17He turned water into wine, at a wedding. He fed a massive crowd of 5,000 people, starting with five loaves of bread and two fish. He gave a grieving widow back her only son by raising him from the dead.
Lazarus, a friend of Jesus' died and was buried in a tomb for four days already. Yet Jesus said, "Lazarus, come forth!" and dramatically raised him from the dead, witnessed by many. It is most significant that his enemies did not deny this miracle. Rather, they decided to kill him. "If we let him go on like this," they said, "everyone will believe in him."18
Is Jesus God, as he claimed?
Jesus' supreme evidence of deity was his own resurrection from the dead. Five times in the course of his life, Jesus clearly predicted in what specific way he would be killed and affirmed that three days later he would rise from the dead.
Surely this was the great test. It was a claim that was easy to verify. It would either happen or not. It would either confirm his stated identity or destroy it. And significant for you and me, Jesus' rising from the dead would verify or make laughable statements such as these:
"I am the way, the truth, and the life; no one comes to the Father except through me."19 "I am the light of the world. He who follows me will not live in darkness, but will have the light of life."20 For those who believe in him, "I give them eternal life..."21
So by his own words, he offers this proof, ""The Son of Man is going to be delivered into the hands of men, and they will kill him. And when he is killed, after three days he will rise."22
What this would mean
"
Talk is cheap. Anyone can make claims. But when it comes to Jesus of Nazareth... He had the credentials to back up His claim.
"
If Christ rose, we know with certainty that God exists, what God is like, and how we may know him in personal experience. The universe takes on meaning and purpose, and it is possible to experience the living God in this life.
On the other hand, if Christ did not rise from the dead, Christianity has no objective validity or reality. The martyrs who went singing to the lions, and contemporary missionaries who have given their lives while taking this message to others, have been poor deluded fools.
Paul, the great apostle, wrote, "If Christ has not been raised, our preaching is useless and so is your faith."23 Paul rested his whole case on the bodily resurrection of Christ.
Did Jesus prove he is God?
Let's look at the evidence for Jesus' resurrection.
Given all the miracles he had performed, Jesus easily could have avoided the cross, but he chose not to.
Before his arrest, Jesus said, "I lay down my life that I may take it up again. No one takes it from me, but I lay it down of my own accord...and I have authority to take it up again."24
During his arrest, Jesus' friend Peter tried to defend him. But Jesus said to Peter, "Put your sword back into its place...Do you think that I cannot appeal to my Father, and he will at once send me more than twelve legions of angels?"25 He had that kind of power in heaven and on earth. Jesus went willingly to his death.
Jesus' crucifixion and burial.
Jesus' death was by public execution on a cross, a common form of torture and death, used by the Roman government for many centuries. The accusation against Jesus was for blasphemy (for claiming to be God). Jesus said it was to pay for our sin.
Jesus was lashed with a multi-cord whip having metal or bone fragmented ends. A mock crown of long thorns was beaten into his scull. They forced him to walk to an execution hill outside of Jerusalem. They put him on a wooden cross, nailing his wrists and feet to it. He hung there, eventually dying. A sword was thrust into his side to confirm his death.
The body of Jesus was taken from the cross, wrapped in mummy-like linens covered with approximately 100 pounds of gummy-wet spices. His body was placed in a solid rock tomb, where a very large boulder was rolled down to it, to secure the entrance.
Everyone knew that Jesus said he would rise from the dead in three days. So they stationed a guard of trained Roman soldiers at the tomb. They also affixed an official Roman seal to the outside of the tomb declaring it government property.
Three days later, the tomb was empty.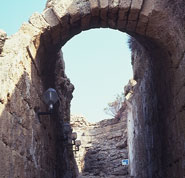 In spite of all this, three days later the boulder, formerly sealing the tomb, was found up a slope, some distance away from the tomb. The body was gone. Only the grave linens were found in the tomb, caved in, empty of the body.
It is important to note that both critics and followers of Jesus agree that the tomb was empty and the body missing.
The earliest explanation circulated was that the disciples stole the body while the guards were sleeping. This makes little sense. This was an entire guard of highly trained Roman soldiers, and falling asleep on duty was punishable by death.
Further, each of the disciples (individually and separately from each other) were tortured and martyred for proclaiming that Jesus was alive, risen from the dead. Men and women will die for what they believe to be true, though it may actually be false. They do not, however, die for what they know is a lie. If ever a man tells the truth, it is on his deathbed.
Maybe the authorities moved the body? Yet they crucified Jesus to stop people from believing in him. This also is a weak possibility. If they had Christ's body, they could have paraded it through the streets of Jerusalem. In one fell swoop they would have successfully smothered Christianity in its cradle. That they did not do this bears eloquent testimony to the fact that they did not have the body.
Another theory is that the women, distraught and overcome by grief, missed their way in the dimness of the morning and went to the wrong tomb. In their distress they imagined Christ had risen because the tomb was empty. But again, if the women went to the wrong tomb, why did the high priests and other enemies of the faith not go to the right tomb and produce the body?
"
Men and women will die for what they believe to be true, though it may actually be false. They do not, however, die for what they know is a lie.
"
One other possibility is what some call "the swoon theory." In this view, Christ did not actually die. He was mistakenly reported to be dead, but had swooned from exhaustion, pain, and loss of blood, and in the coolness of the tomb, he revived. (One would have to overlook the fact that they put a spear in his side to medically confirm his death.)
But let us assume for a moment that Christ was buried alive and swooned. Is it possible to believe that he would have survived three days in a damp tomb without food or water or attention of any kind? Would he have had the strength to extricate himself from the grave clothes, push the heavy stone away from the mouth of the grave, overcome the Roman guards, and walk miles on feet that had been pierced with spikes? It too makes little sense.
However, it wasn't the empty tomb that convinced Jesus' followers of his deity.
Not just the empty tomb.
That alone did not convinced them that Jesus actually rose from the dead, was alive, and was God. What convinced them were the number of times that Jesus showed up, in person, in the flesh, and ate with them, and talked with them.
Luke, one of the gospel writers, says of Jesus, "he presented himself to them and gave many convincing proofs that he was alive. He appeared to them over a period of forty days and spoke about the kingdom of God."26
Is Jesus God?
All four of the gospel writers give accounts of Jesus physically showing up after his burial, obviously alive. One time that Jesus joined the disciples, Thomas, was not there. When they told him about it, Thomas simply wouldn't believe it. He flatly stated, "Unless I see the nail marks in his hands and put my finger where the nails were, and put my hand into his side, I will not believe it."
One week later, Jesus came to them again, with Thomas now present. Jesus said to Thomas, "Put your finger here; see my hands. Reach out your hand and put it into my side. Stop doubting and believe." Thomas replied, "My Lord and my God!"
Jesus told him "Because you have seen me, you have believed; blessed are those who have not seen and yet have believed."27
Your opportunity
Why did Jesus go through all of that? It was so we could know God now, in this life, by believing in him.
Jesus offers us a far more meaningful life, by being in a relationship with him. Jesus said, "I came that they might have life, and have it abundantly."28
You can begin an intimate relationship with him right now. You can begin to personally know God in this life on earth, and after death into eternity. Here is God's promise to us:
"For God so loved the world, that he gave his only Son, that whoever believes in him should not perish but have eternal life."29
Jesus took our sin on himself, on the cross. He chose to receive punishment for our sin, so that our sin would no longer be a barrier between us and him. Because he fully paid for your sin, he offers you complete forgiveness and a relationship with him.
Here is how you can begin that relationship.
Jesus said, "Behold, I stand at the door [of your heart] and knock; if anyone hears my voice and opens the door, I will come into him."30
Right now you can invite Jesus Christ into your life. The words are not important. What matters is that you respond to him, in light of what he has done for you, and is now offering you. You could say to him something like, "Jesus, I believe in you. Thank you for dying on the cross for my sins. I ask you to forgive me and to come into my life right now. I want to know you and follow you. Thank you for coming into my life and giving me a relationship with you, right now. Thank you."
If you asked Jesus into your life, we would like to help you grow to know him better. In whatever way we can help you, please feel free to click on one of the links below.